Depending on the business types, buying environment, solution types, selling and sales complexity must vary. In the article, we had mentioned 4 types of sales expertise depending on the buying environment and solution type.
Just for brevity, let us put this again here,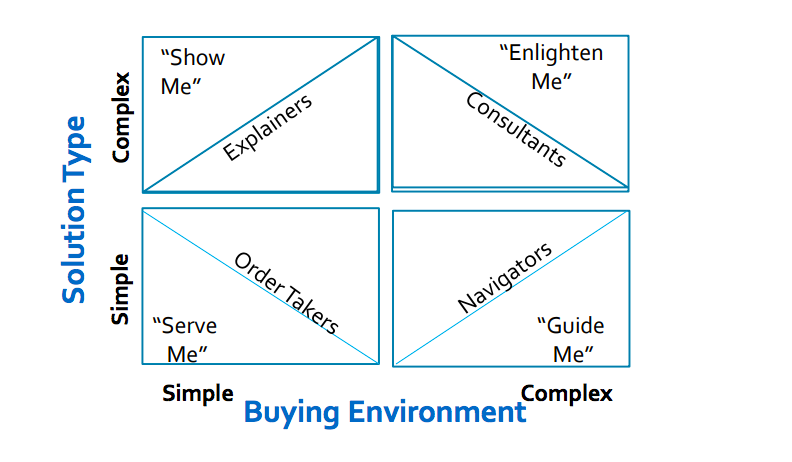 As we can see from the above 2×2 matrix when the buying environment is complex, as well as you have a complex solution, the selling requires extreme sophistication and problem solving skills. This is generally called consultative selling.
The key attribute of consultative selling is about the ability to show empathy to customer problems, help them solve problems and in the buying process itself provide maximum value.
Providing value during buying process
Providing value means understanding the customer's business, their industry challenges, competition and coming up with solutions which helps the buyer decision process seamless. This means salesperson must be willing to play a strategic role in the customer's business.
This generally calls for, salespeople to become experts and play the role of consultant in their customers' businesses. Sales consultants must wear many hats such as strategists, problem solvers, setting directions and finally providing opportunities for customers while demonstrating value.
How to gain expertise in consultative selling
Of many skills, competencies to acquire, if we have to narrow down to the 3 most important and must competencies required for consultative selling is as below,
Understanding the buying behavior
Knowing what the customer values and what strategic relation he wants to build are critical. Buying behavior is not just about buyer needs, aspirations but also his decision-making process, risks he perceives in buying etc. A consultant always starts with the customer's point of view and tailors his advice accordingly.
For example, most businesses have the practice of giving samples to customers and waiting for them to come back. But as a sales consultant, you must not limit to giving samples. Instead, understand in depth about customer plans, vision, their roadmap, their current usage etc and along with sample suggest a solution which they can immediately use it.
Creating competitive offering
Very few product or service exists which do not have competitors today. In this environment of extreme competition, it is the salesperson job to understand what is valuable to the prospect and provide that as a competitive offering. The offering must be something customer can see it and willing to pay.
For example, If you are selling an industrial component which faces competition from many players, as a sales consultant your role here is to show clear differentiation of your product over competitors to the buyer and help them see the superior value your product offers due to the differentiation.
Understanding business priorities
Sales consultants must be able to identify the things that keep customers awake at night and offer the right solutions. Understanding customer priorities and helping them see how their products can address those priorities are very useful.
Sometimes business won't be keen to expand but interested in cost reduction. You need to show business how to optimize cost savings. To understand priorities sales consultants must be willing learn about customer business from various sources such as latest news, annoucements, annual reports, what competition doing etc.
Summary
As we shared above, sales consultant plays a very key role and is critical for business success at both customer end as well for own company.