The fastest way to drive sales productivity is by improving sales conversation skills. But on top of that, there are definitely sales technology has come a long way to help B2B companies and more specifically B2B sales teams to improve their sales success.
B2B salespeople are facing always new challenges that can be either sourcing prospects, engaging in hybrid medium, and finally closing deals.
This guide will cover many digital tools and platforms for salespeople to use and help solve some of these new challenges.
Table of contents
What is a B2B sales tech?
Why do you need a sales tech for B2B sales?
How to build your own sales tech for your business?
The complete sales tech overview
What is a B2B sales tech?
A B2B (Business-to-Business) sales tech (more accurately known as sales technology stack) is the collection of software or technology solutions that B2B sales teams use to carry out their roles.
Some of the tools are becoming essential to have and many others offer increased value that helps in scaling, productivity improvements, and overall gives a competitive advantage.
Why do you need a sales tech for the B2B Sales team?
Well, you don't need one if you want to do it only manually and are not serious about scaling sales. There is already a set of technology that you are using like e-mail, LinkedIn, online meetings with Zoom, Google meet, and a CRM.
But chances are there is a lot more you can do that will help you give that edge in sales and also reduce manual efforts thereby increasing sales team productivity. Ultimately these actions translate to reaching more customers and closing more deals.
The features and functionality of many digital tools can enable B2B sellers to unlock ways to improve their success in closing deals that never even existed before.
How to build your own sales tech tailored to your business?
There is no one rule for sales technology. It all depends on the stages of your broad-level sales. At the high level, any sales function can be seen as
Pipeline Creation -> Pipeline Conversion-> Pipeline Retention
Under each of these, we have,
Pipeline Creation
Source Lead Data
Making Contacts with Leads
Fixing Initial Meetings To Qualify
Pipeline Conversion
Discover needs & pains
Demo & present solutions
Closing deals
Pipeline Retention
Managing the accounts
This guide is organized in the order of what technologies salespeople would typically be used under each of the stages of the sales.
When deciding on a certain technology, your ultimate goal should be to see how it can increase sales.
Some things to consider when choosing which tools to invest in are: How big your team is, sales cycle length, where in your business is work slowed down, where are you losing deals, is the visibility of your team's work, how in-depth are your analytics and reporting, etc.
By identifying inefficiencies within your sales process, you may be able to greatly improve your sales numbers with minimal investments.
Let's get started!
The complete sales tech overview
The list is divided based on the sales functions and will keep getting updated.
Sales Prospecting (Aka Pipeline Creation Tools)
The tools available for building a sales pipeline are many and fall under key categories such as data sources, lead intelligence, outreach automation, and conversation intelligence platforms. Some of the common tools and platforms are as below,
B2B data source: Slintel, Hubsell, Zoominfo, LinkedIn sales navigator
Intent Data: Slintel, Leadfeeder, Leady
Email verification and validation: Never bounce, Clearout, Zerobounce
Sales automation software: 7Targets.Ai, Outreach.io, SalesLoft
Phone automation software: Tenfold, Ringio, Exotel
Smart teleprompter and conversation intelligence: Gong.io, Chorus.ai, ExecVision
Inbound sales prospecting software: Live chat platforms like drift, intercom, LiveChat
GrowthAspire Recommended Tools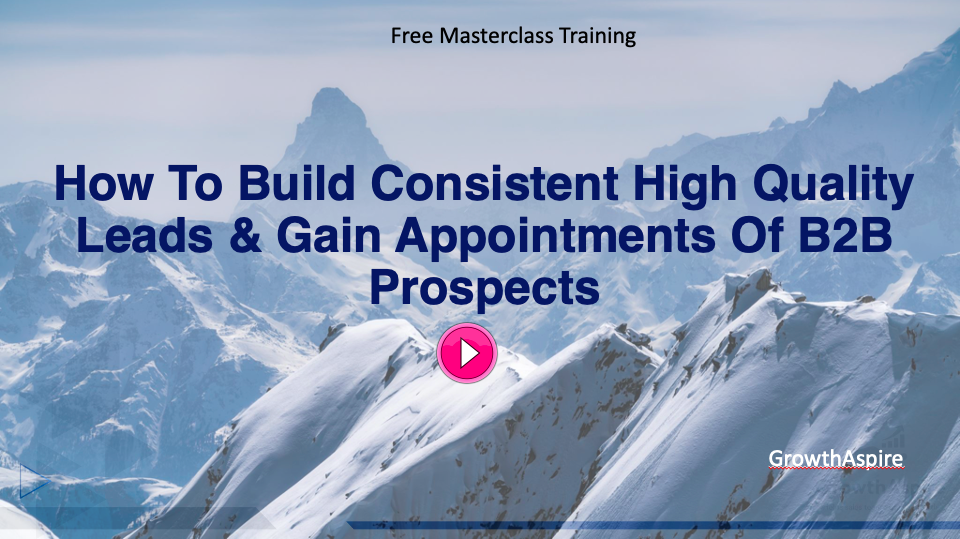 Pipeline Conversion Tools
In the pipeline conversion step, there are many tools to help the sales process and manage conversations to increase sales success rates. Among them the common software is CRM but also other tools exist such as presentations, video meetings, and messaging tools.
CRM tools: Pipedrive, Salesforce, HubSpot, Freshworks
Appointment scheduling tools: Google calendar, Calendly, Acuity scheduling
Video prospecting software: Vidyard, Vimeo, Bonjoro
On-brand messaging tools: Grammarly, ProWitingAid
Video conferencing software: GoogleMeet, Zoom, Microsoft Team
Document sharing platforms: DocSend, Clearslide, Bloomfire
Forecasting and sales insights tools: Clari, Ebsta, Bootsup.ai, Trinity Perspectives
Digital signature software: HelloSign, DocSend, PandaDoc
B2B market research tools: SimilarTech, Wappalyzer
GrowthAspire Recommended Tools
Other Recommended Tools
Conclusion
Leveraging technology is a key driver for sales success. The above list of tools is just a fraction of what is available in the market but for 90% of B2B sales teams, these cover common use cases.
Keen To Get Your Sales Growth Accelerated With Proven Sales Technology?
Schedule a 15-minute call where we review your current tech stack and also what best fits your requirements and suggest a roadmap for the year on which tools are best suited for your business to scale. Click below to set up a meeting