COVID-19 changed the way business is conducted worldwide. This is relevant to the way the sellers engage the buyers.
In the current environment of excessive information and lack of opportunity to meet face-to-face sellers can achieve better results by transitioning to a hybrid form of sales. But hybrid sales don't come natural to many.
Be it e-mail writing, social media interaction, or being natural on video is a skill that needs to be learned and the good news is, it is easier than many have thought to be. The only thing to be made sure of is to invest consistent effort.
Any change is not easy but change is a must. As the below quote says,
If the rate of change outside exceeds the rate of change inside, then the end is near

Jack Welch
if sellers don't adapt to changes, then it is very likely it is sellers who stand to lose out. So there is an urgent need to change the way the sales are conducted.
Based on our interactions with hundreds of leaders and also our own experience, we believe the following 5 changes for the sellers to succeed.
Stop selling and be a resource
This may sound cliche but this is far more important in today's times compared to anytime earlier. Instead of selling, salespeople must help people to buy. Helping buyers with their needs and problems.
Today people do not want to be sold. In the current status of the world we are in, it won't work to sell without offering value. It is time to shift from the feature, selling to Helping & ROI.
Salespeople take up the role of being a resource, being experts, and start helping prospects with their needs and problems – even if they don't buy your products, right now. Salespeople must take up a long-term approach to building value over transactional selling.
Offer insights to get buyer attention
We are in a world where the attention span is the scarcest resource. Enterprise buyers are not willing to give a lot of attention to the salespeople.
It is natural to get into discussing price, match competitors, etc. A successful sale happens when a salesperson learns to get their attention so one can control the sale process and get them to speak about their challenges and needs.
To get attention, important to offer value first by using magnetic content. 5 ways to share and get buyer attention are,
Sharing a key insight that changes buyer current perspectives
Sharing an industry trend that helps them see the big picture
Sharing research reports that give them key information
Sharing how your soln. helps solves the business problem with ROI
Take a point of view – Advocate about current business
Adapt to the hybrid selling
The world is going digital and so too buyers. In today's world of social distancing, the field sales team must acquire the skills of remote sales.
It is an urgent need for sellers to leverage the best social platform for B2B sales, I,e LinkedIn. LinkedIn helps to find and connects to top prospects. It is the best platform to share value and generate appointments.
Did you know that 90% of top-performing sellers use social media in their sales strategy?

As per LinkedIn
E-mail is another tool that can be used extensively for creating multi-messaging campaigns.
87% of B2B marketers use email marketing to generate new leads.
This is a time for sellers to work on telephone skills. It is always good to get on the phone call and be more personable with prospects, and customers.
Become familiar with video and send video presentations, Video sales
Move from existing to new markets
Time to explore new markets and new niches. Instead of working in known networks, sales much leverage bigger networks and enter newer markets. Acquire the skills of new-age prospecting.
42% of sales professionals say prospecting is the hardest part of their job. The rest say it's closing (36%) or qualifying (22%)

Hubspot
Key things to focus on when connecting to potential buyers are, doing the clear homework
Learning about the company or prospect and getting a sense of their situation. Gaining situational fluency in terms of where they are in their business. Doing the right homework
Let the potential buyers know, how the solutions they have been working and how it has worked for buyers similar to them.
Lead with value and help the buyer clearly see the value before talking about the company, product, or oneself
For the management, key takeaways
We are in the VUCA(Volatile|Uncertain|Complex|Ambiguous) world. A common expression used for turbulent times.
Recently I came across a good antidote to the VUCA and that is CALM.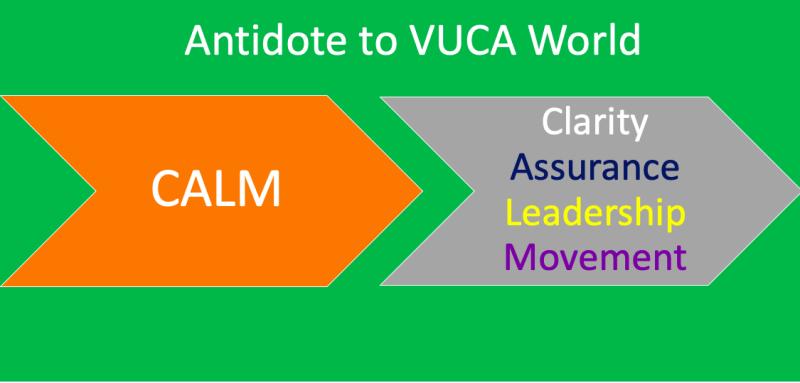 3 things that help to be in CALM are,
Continue to recruit: Now is the time to recruit and reinforce the sales and management team. Be ready for a rebound when it happens
Learning is key; This is the time to help the sales team pick up new skills | tools | and attitudes to succeed in the changing world. Encourage the sales team to start to learn and adapt to a new way of working.
Sales Training as per Zolstner & Sinha exists to make salespeople successful.
Sales training exists to make salespeople successful – continuously successful.

Zolstner & Sinha from ZS Associates, Author of Accelerating Sales Performance
Practice your Sales Playbook: Having a sales playbook ensures every member of your team is focused on key activities that produce results with less guesswork.
According to many studies and our own experience, following a proven sales process alone increases 25% increase in sales
Practice| Predetermined Mindset | Key Behaviors, Proven systems, and a sales process are what ensure sales team clarity.
Conclusion
The above 5 takeaways are what we have gathered from various industry leaders on how to tackle the current crisis. There is no silver bullet approach but what is guaranteed is the way things used to work if followed will not be optimal.
What is required is being agile and adapting to new skills, and practices, and developing a mindset to venture into new ways. Remote selling will be a game-changer and time for salespeople to upgrade this competence.
If you are wondering how to get your sales team to adapt to a new way of working, then we have good news.
GrowthAspire is offering Virtual Instructor-Led Training for getting the sales team to acquire cutting-edge tools|skills| and attitudes to succeed in remote selling.
Looking for a partner who can help you grow your sales? Just spend a few minutes to figure out how we can help you.
Contact GrowthAspire Expert, Krishna G at 968-645-6168 or send us a note