To achieve aggressive sales growth, the business must be able to build systems that align the marketing (lead generation) and sales (conversion) activities.
The 5P sales system is common sales system that helps to keep the sales system running. The 5P includes,
PEOPLE
Hire the right number of people by role to hit your sales targets.
PROCESS
Having the right process based on to make the team achieve pipeline and sales goals.
PLANNING
Have the right sales strategy and necessary plan to grow pipeline through execution by outbound prospecting, marketing, and sales.
PIPELINE
Hit the pipeline goals and convert them to your revenue target.
PERFORMANCE
Define the right performance goals to hit sales targets consistently as per sales quota.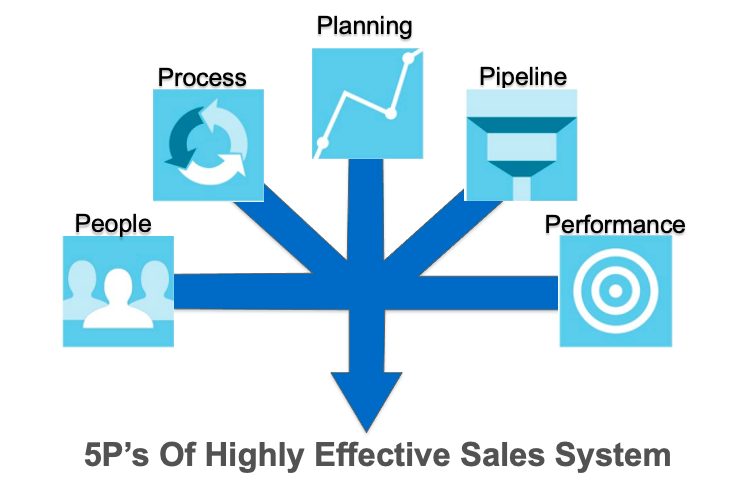 Among the 5P's most of the companies do focus on the People, Performance, and Pipeline. But what gets missed out is the essentials of Planning and Process.
How to essentially plan to build your people, manage pipeline and also achieve the performance is best done by using tools.
Every year, quarter all types of the company's focus their efforts on one thing, they are setting the revenue goal for the upcoming quarter, year to come by. But the question is, what is the tactical plan to achieve it?
Now you need a tactical plan to achieve it.
Whether you are having field sales or having the inside sales team the approach remains the same.
To achieve the revenue 2 things, must happen
1. Pipeline creation: Generating qualified opportunities
a. Marketing generating the qualified leads which are followed up Marketing Qualification Rep (MQR) to convert to an opportunity
b. Outbound prospecting where lists are procured, and Sales Development Rep (SDR) convert leads to opportunity
2. Pipeline conversion: Converting opportunities to sales
a. Dedicated Inside Sales Representatives (ISR) who follow up the opportunities to convert to sales. This can be also done by field sales for our consideration we will use ISR.
What are the key questions that need to be asked in the first place?
• To hit sales annual quota how do I know the optimal resource capacity?
• What is the optimal sales cost/revenue ratio?
• What data/benchmarks should I rely on for my planning?
• How to allocate the quota of opportunities, deals for SDR and ISR?
• How do I tweak if my CAC is high?
• How much resource capacity to build to cover the existing list?
Watch this video to learn how you can plan your sales revenue, resource, and individual sales goals.