Ever since covid, there has been a significant shift in the way businesses are conducted. Sales are no different. In selling there are new trends are building up. The 3 major trends are
1. Large deals are now being done online
2.  Buyer is more sophisticated and overall sales is buyer-driven
3. Changing the sales method is critical now
Now in these 3 major trends, there are many trends surfacing
Trend1:
97% of B2B buyers claim they will make a purchase in an end-to-end, digital self-serve model, with the vast majority very comfortable spending $50K or more online. McKinsey
Trend 2:
Around 90% of B2B decision-makers expect the remote and digital model to stick around for the long run, and 3 in 4 believe the new model is as effective or more so than before COVID-19 (for both existing customers and prospects) McKinsey
Trend3: 
Don't count on returning to a pre-COVID-19 level of in-person sales coverage, as only 20–30% of B2B buyers want to ever interact with reps in person even in their ideal/post-COVID-19 model. McKinsey
Trend4: 
30% today B2B technology buyers already purchase through Digital Channels. Forrester
Trend5:
80% by 2025, B2B sales will be online as per Gartner in Future of B2B Sales
Trend6:
63% of buyers say working remotely has made the purchasing process easier. LinkedIn
Trend7:
61% of sellers say they "always" put the buyer first. But, only… 29% of buyers agree. LinkedIn
Trend8:
Buyer consider these behaviors as buyer first

83% say, Staying actively engaged after the sale to ensure value delivery

83% say, Being completely transparent about pricing

83% say offering product tests, training, and trials 

77% say aligning with the buyer's success metrics related to the purchase

74% say Recommending different products/companies if your product doesn't fit the buyer's needs

70% Providing free and easy access to product reviews and other content
Trend9:
Buyers first behaviors practiced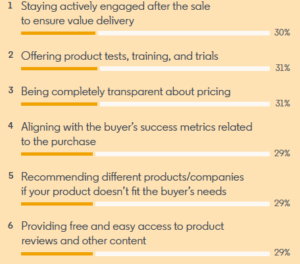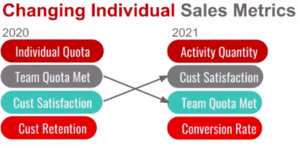 Trend11:
Videoconference connections are critical and are preferred over audio/phone by almost 4 out of 5 B2B buyers
Trend12:
74% of sellers say they are committed to expanding their LinkedIn network in 2021. LinkedIn
Trend13:
Sales technology helps the sales process build trust. And a large portion of sales professionals say they plan to use these technologies "significantly more" in 2021:

49% Sales intelligence Tool

47% Sales engagement Tools

48% Virtual collaboration

45% Sales planning

49% CRM

Source: LinkedIn
Trend14:
Top 3 traits buyer value in sellers

Active Listening

Problem Solving

Confidence
Trend15:
Over 70% of sellers who use custom recorded videos say they perform better at producing opens, clicks, and responses than text-based emails. Vidyard
Trend16:
Sales models will go hybrid.

From 28% now it will become 85% in next 3 years. Hybrid sellers mean the reps who interact with buyers across video, e-mail, LinkedIn, phone, apps, and occasional in-person visits. McKinsey
Trend17:
LinkedIn Inmail success is highly skewed towards shorter messages. 
Trend18:
86% of sales leaders say, changing buyer preference is impacting sales organizations
Trend19:
Sellers ranker barriers to Buyer First

Lack of right skillset among existing sales talent

Emphasis on meeting short term revenue goals

Limited budgets

Limited commitement sales training

Inadequate coaching

Organization Culture
Trend20:
The new versatility in learning

Changes in online learning like nothing before with many previously reluctant participants quickly adapting to this learning medium with great success.

Remote learning and online learning will continue to help salespeople and teams drive more and better sales.
The Action Items
Now that you know the trends what are key action items to navigate these changes? At GrowthAspire we have trained and coached 20+ companies and 1200+ professionals, leaders, and teams to adapt to the new way of selling over the last 18 months.
Download this playbook to understand what needs to be done