Closing sales quickly is one of the biggest challenges in complex b2b sales. Many in sales complain that customer talked well, they liked our solutions but delaying the buying the decision.
They have gone into cold storage! They aren't responding or giving some or other reasons! Tired of following up with them!!
For example, in spite you knowing you can definitely serve the target buyers with your solutions and have demoed the solution and they have liked, but when it comes to commitment to buy, many delays by saying things like
"I do like what you offer, we are considering and will get back"
"We don't have the budget you are asking"
"We do see the problem you mention, but it is not a priority for us"
"We are still evaluating"
"Our priorities have changed now and we cannot spend the money on this"
Now when you get this kind of response, it is common to feel,
"Why our buyers in spite of agreeing to the problem and liking the solution, don't commit to buying?"
Or, forget the buying, it is a common feeling
"At the least how to make the buyers agree to your point of view? Say, can they accept a free trial option?"
This is not uncommon. There are many times, buyers in spite of having problems, and presented with matching solutions, resist to buy or even try the solutions.
Most people struggle to take the buyer out of this decision paralysis is because they don't know how to connect to the buyer's emotional side.
Any buying decisions are driven by emotions and one of the biggest emotions that drive people not to commit to buying is their buying risks are not eliminated!
The holy grail of sales success is when you can eliminate the risks buyers hold by changing their current beliefs and perspectives.
Most buyers have their own way of seeing things and hold perspectives that are not aligned with buying your solution.
Most people do this because inherently they find buying solutions is far riskier compared to being in the status quo or postponing! As part of this, they choose to be with their old way of thinking!
In sales, the key to success lies in the ability to make customers acknowledge that they need to solve their current problem and that too to be solved right now!
This can happen only if when the buyer's perspectives are changed! Highlighting your product features or functions or lowering price will not work when buyer's current perceptions, beliefs are not changed to buy your solution!
This requires more of connecting to emotions than the logic part which is all about the product, price, ROI.
Now to connect to emotions is not something that comes naturally to many. It requires a genuine sense to help buyers but also the influencing and persuading ability by using the words, images, and non-verbal signs.
But first, let's understand what it takes to change buyer beliefs by understanding how our brain works.
Human brains wired to resist change
Our brains are hard-wired to not accept change easily. Most changes are perceived as threats. Any buying involves change and most buyers if they perceive the change you are suggesting is difficult, they resist that.
To understand why this happens, knowing how the brain has evolved and the way it functions is useful.
Our brain has gone through significant evolution and scientists categorize 3 distinct parts.
Reptilian,
Limbic, and
Neo-cortex.
The reptilian part of the brain, which is the primary part of the brain. Its main role is to help us to survive from any kind of threats, dangers, etc
The mammalian or limbic brain's primary function is for emotions and memory. The mammalian brain has a highly evolved emotional capacity for love, compassion, respect, anxiety, doubts, etc.
Then recent discovery has revealed the largest part of the human brain which is the neocortex is responsible for the logical and thinking part.
Now, whenever there is a change (buying new solutions, committing to try a product), it is normal for the human brain to perceive the change as a risk or threat.
If the seller is presenting a solution in such a way buyer perceives even the slightest risk, then there are emotions of fear, anxiety gets triggered.
The reptilian brain takes control at this time and the only response the reptilian brain has is to get us to survival, I,e fight or flight approach.
Generally, buyers respond by rejecting the offer or postpone the buying!
To not trigger a reptilian brain default response, the seller must make every effort to ensure the buyer doesn't perceive the risk in trying the solution. Eliminating the risk is key at each stage of the sales cycle!
Also one must understand buyer risks continues to vary based on which part of the sales cycle here is in.
The buyer risk during the initial phase of sales like determining needs is less whereas during commitment to buy is highest!! But there is always a risk that the buyer considers and the key is to make buyer perceived risk is minimized always!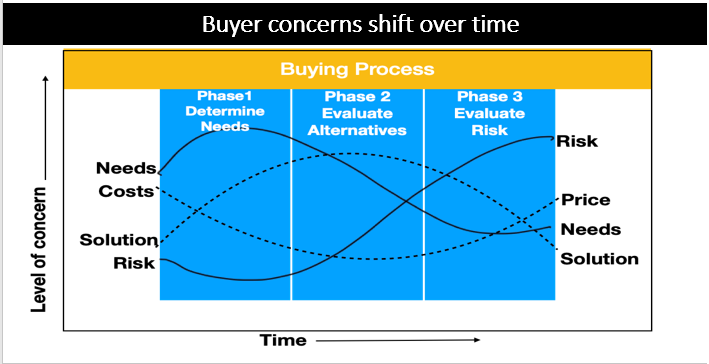 Eliminate buyer risks, by connecting to emotions than reasons
As we discussed, most buyers are in risk-averse mode. When they perceive risk, buyer's prefer 3 options
Reject the offer means remain with their current status quo
Postpone the buying
Bargain the price to very low so they feel, they won't lose much if risk they perceive turns out to be true
As a seller, any of the above 3 actions from buyers is bad! The way for the seller is to eliminate the risk buyer perceives. To do that one must address their emotional reasons that are the driving buying factors.
If the buyer connects to the problem and thinks your solutions help solves that problem, but not ready to commit to buying the solution means emotionally he is not convinced.
Even if logic, reasons are accepted, if not moved emotionally, the customer will continue to resist change. The only fact is some people may express openly and some silently resist!
Connecting to the emotions
Emotional competence or connecting to human emotions means we need to learn to activate the mammalian part of the brain instead of the reptilian part of the brain. As we covered reptilian brain response is only fight or flight.
The positive decisions are made only when the buyer can perceive success, future vision, and better outcome with his decision. This mammalian part of the brain needs to be triggered.
Now in the sales, it is not that people don't connect to emotions. But it is mostly done in a way for instant action which works for small risk items, like B2C.
The concept of carrot (giving offers, discounts) and stick policy (urgency tactics, price rise, etc) to drive actions is nothing but connecting to emotions, but when the buyers perceive high risk or hold some different perspectives itself, the mental framework of positive influencing to be used.
Emotional competence means the ability to connect to an individual's beliefs, values, and behavior level.
This is required to address many buyer's wrong beliefs they hold about your products, solutions, or their own past experience. When you address the belief level, you can help them develop a sense of ownership for the change!
To do this, some of the important skills and mindsets to be developed are,
Being open-minded
Ability to ask questions,
Active listening,
Ability to use stories, Metaphors
Building rapport with buyers.
One technique that helps to connect to emotions- FFF Technique
Connecting to emotions means being empathetic
If you look dictionary the definition of Empathy is
"Empathy is the capacity to understand or feel what another person is experiencing from within their frame of reference, that is, the capacity to place oneself in another's position."
In general, Buyers are taking some level of risk every time they make a decision to buy a product or service, particularly purchases in the B2B space.
So, a good salesperson should be empathetic to the buyer's challenges and risks. As such, including empathy when you respond to objections is a way to strengthen your relationship with your buyer and improve the likelihood that you'll close the sale.
One of the most effective communications techniques in a sales environment is the use of Feel-Felt-Found (FFF). Here's how FFF works, along with an example…
| | | |
| --- | --- | --- |
| Step | An example of what you say… | Why is this appropriate? |
| Step 1 – Feel – expressing empathy | "I understand why you'd be concerned about the length of time required to implement the system." | You are acknowledging and empathizing the concern your buyer has expressed – not ignoring it. |
| Step 2 – Felt – making the buyer feel legitimate | "We've had other customers express a similar concern." | You are validating and legitimizing the objection – not minimizing it in any way. |
| Step 3 – Found – giving another reason to buy | "What they found though is once the system is set up and operational, it produces savings at a rate faster than if you implemented a less robust solution." | You are explaining how your solution overcomes the stated objection. |
How to apply the FFF technique in your objection handling
By empathizing with the buyer and legitimizing his objection, you communicate an understanding that mitigates the risks and skepticism your buyer may be experiencing.
As the buyer at the emotional level has accepted the need for changes, committing to buy your solution is the next logical step.
Most buyers will themselves come back with their timelines and show urgency to solve now!.
Conclusion
Sellers having emotional competence is as much required as technical competence.
To help buyers who are in the status quo, not ready to commit, helping them take action is possible only by changing their core beliefs, perceptions by connecting to their emotional side.